TESTIMONIALS
What are our Customers saying about us?
Shabir K., Rancho Palos Verdes, CA
"Outlaw Graphix did an amazing job on a huge project for my company. Kaylene redesigned our corporate logo and created 3 additional logos for new product lines. In addition Kaylene and her designer designed and printed business cards, brand new flyers, 2 different retractable vertical banners, 2 table cloths, embroidered polos, and a giant 8" back drop for our exhibition booth. She was extremely patient with me considering I'd never worked with a design company before. They must have fielded 100's of emails and several in-person meetings. Their prices are very reasonable and turnaround time was fast! I couldn't have asked for a better experience. Thank you Outlaw!"
Awna C., El Segundo, CA
"Outlaw Graphix is an outstanding graphics and signage company. As an El Segundo resident, I like to use local businesses as much as possible, and Outlaw Graphix is a perfect example of why. We just moved into our new office and need our sign to be fabricated and hung and window decals to be installed. After reviewing my local options, Outlaw won me over with their appealing branding, phenomenal reviews, and ability to take care of everything we needed. Kaylene was awesome to deal with over the phone and in person. Very professional, helpful, and informative. Once I handed over the files, the rest of the process was taken care of by Outlaw. They were more than willing to take my questions whenever I called them, and their pricing is very competitive as well. I will certainly be using them in the future for any signage and graphics projects that may arise."
Paula A., Torrance, CA
"I want to share with the world the fantastic job Kaylene and Herbie did on my mobile veterinary clinic wrap. In fact they did such a great job I have asked them to do my brochures and new business cards as well. One happy client!"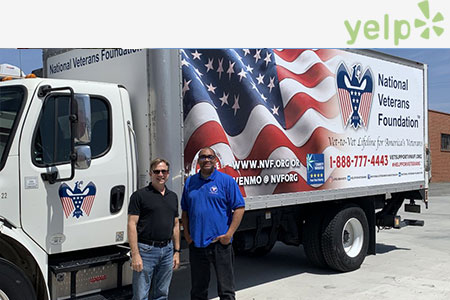 David C., Redondo Beach, CA
"Kaylene and Amber and Thomas were a pleasure to work with. Kaylene is so competent with her design skills and so patient and helpful. We are beyond impressed by the wrap quality. The installation was superb. The photos don't even do it justice. The quality of the graphics is so great that you can see the stitching in the fabric of the US Flag. Outlaw Graphix earned my strongest recommendation! Thank you!" Dave T. David Clanton Director of Operations, Army Vet 1985-2005 National Veterans Foundation
Colette T., Torrance, CA
"Outstanding Customer Service! Kaylene and Amber were so helpful and walked us through the design EVERY step of the way! I ordered over 200 T-shirts and a banner for the front of our school for year end school celebration. Then I had a last minute need for some giveaways and Kaylene stepped up and got the order together way within my deadline! Everything looked fantastic! I will definitely use them again!"
Cara L., Los Angeles, CA
"It just doesn't get better than Outlaw Graphix when it comes to signs, banners, car wraps, shirts, etc. Kaylene and her team is fast, fairly priced, dependable, and super creative. I have been using their services for almost 20 years and I would never go anywhere else!"
Ben W., El Segundo, CA
"Kaylene and her crew at Outlaw are absolutely fantastic to work with and very accommodating. I've been using them for 3 years to make t-shirts, banners, and ad design for my local El Segundo business, and I couldn't imagine going anywhere else."
Christine W., El Segundo, CA
"Outlaw Graphic did our All-Star Team's Hoodies and Jackets. Kaylene was very patient and very diligent in getting the design done exactly as we wanted it. They came out beautiful and with great quality and at a very good price. Teejay and the rest of her staff were always so friendly and helpful when I would call. I would definitely recommend this place!"
Joey W., El Segundo, CA
"We hired Outlaw Graphix to design 2 different sweatshirts. Kristina is so helpful, quick with returning emails, and her design work is beyond brilliant! Super fast turn around too. They also were very helpful with sizing, as we had 20 kids to fit. "
Harry and the LoanNow Team, Manhattan Beach, CA
"Thanks for doing such a great job on the decals for our Company Car. You guys were very reasonable with your costs, your work was done with care, and it looks really good. We look forward to working with you again."
Jerry L., Long Beach, CA
"I've used Outlaw Graphix since 2007. The times that I did were productive and my time wasn't wasted. Kayleen is very diligent and wants to please the customer. The prices are competitive and there isn't anything they won't do in the field of graphic design. I'm picky, to say the least, this is why I continue to use Outlaw Graphix."